LANG offers a variety of nude social and recreational activities during the year
LANG social and recreational events include:
Pool and jacuzzi parties
Day and evening hikes
Backyard barbecues
Weekend trips to Palm Springs
Cocktail parties
Movie nights
Board game and card parties
Massage parties
Potluck dinners.
---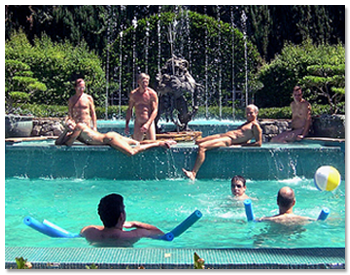 Past events have also included overnight camping trips, trips to local beaches and hot springs, lectures, dances, dinner parties, costume parties, talent shows and theatre.
Holidays are a favorite time for LANG parties too, typically including a St. Valentine's Day Cocktail Party, Mardi Gras Pot Luck, St. Patrick's Day Pot Luck, Easter Cocktail Party, Memorial Day Barbecue, Independence Day Barbecue, Labor Day Barbecue, Halloween Costume Party, Thanksgiving and Christmas Dinners (for those unable to be with families), Christmas Gag Gift Exchange Party, and a New Year's Eve Party.
Most LANG activities are held at the private homes of members. LANG parties may be as small as 10 men to over 100 members and guests. LANG events are private events for LANG members in good standing, their invited guests, and members of GNI affiliated brother clubs outside the Greater Los Angeles area. Membership and attendance at LANG activities and events is limited to men at least 21 years old.
Activity Guidelines
Activity Guidelines are based on common courtesy and respect for others:
Hugs and friendly touching are OK. Spontaneous erections are generally considered natural and should not be a cause for concern or shame.
Body acceptance is what we're all about. Avoid making anyone feel conspicuous or uncomfortable.
Safe sexual activity may be allowed at some events. When allowed, sex must be mutually agreed upon and confined to the designated discrete areas to insure courtesy to individuals not choosing to participate.
Rude or obnoxious behavior is not acceptable, nor is abuse of alcohol or any activity that might cause injury.
DRUGS are NOT allowed.
Smoking is by host prerogative in a host designated area.
Members of the club are responsible for the behavior of the guests they invite.
Photography is permitted by members (for personal, noncommercial use) but only by common personal consent.
Everyone must be nude unless the listing for the event indicates otherwise.
Bring a towel to sit on and your own beverages to drink.
Thank the host, and if extra help is needed, offer to help.
---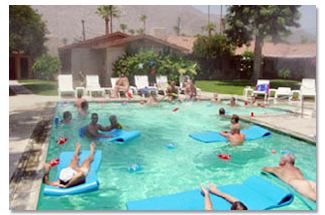 We enjoy being nude for social and recreational activities.
We enjoy the freedom of being without clothes whenever
possible and practical.
Interested in these social nude activities? Read about LANG's purpose, then read about a first visit to a LANG event.